Our Fall 2018 Shows

---
hello
SEP
7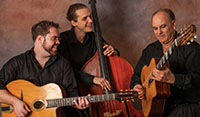 Ameranouche
(Richard Sheppard)
The award winning Ameranouche (pronounced uh-Mare-uh-noosh) plays a passionate style of music they call "Gypsy Flamenco Swing." They are veterans of the Newport Jazz Festival, Djangofest Northwest, Muzikfest Bethlehem, PA and the National Press Club. The name is derived from two words: American and Manouche, the gypsy tribe of guitarist Django Reinhardt. The rip-roaring ensemble is a super force of hot acoustic Gypsy inspired music mixing Flamenco, Bebop and Jazz swing influences. Played on traditional French jazz guitars, the music is rhythmic, vigorous, and elegant. Whether they're playing a musette waltz from 1930 or an Andalusian inspired original tune, Ameranouche's Gypsy Flamenco Swing style is a fresh and highly enjoyable new sound for the 21st century.
Gypsy Flamenco Swing is about coming together and celebrating our shared humanity. Ameranouche is committed to connecting deeply with its audience and sharing joy and peace through its live shows and recorded albums.
---
Tonight's Sponsor:
Kearsarge Marines
SEP
14


OPEN MIC NIGHT
The Tradition continues, Stop by to listen or join in. Sign up on site with the host for your 15 min or three songs. Storytellers also welcome!
Tonight's Emcees:
Al Carruth & EJ Tretter
---
Would you like to sponsor a night? Your name, logo and link could be right here. Plus it defrays our costs for the evening!
email: Vic Reno for info
This completes our Fall Schedule.
Booking for Fall opens March 1 and booking for Winter/Spring opens the previous October 1